4 Bedroom Penthouse Master Bungalow
Interior & Exterior Price: ₦39,700,000
Exterior Price: ₦31,700,000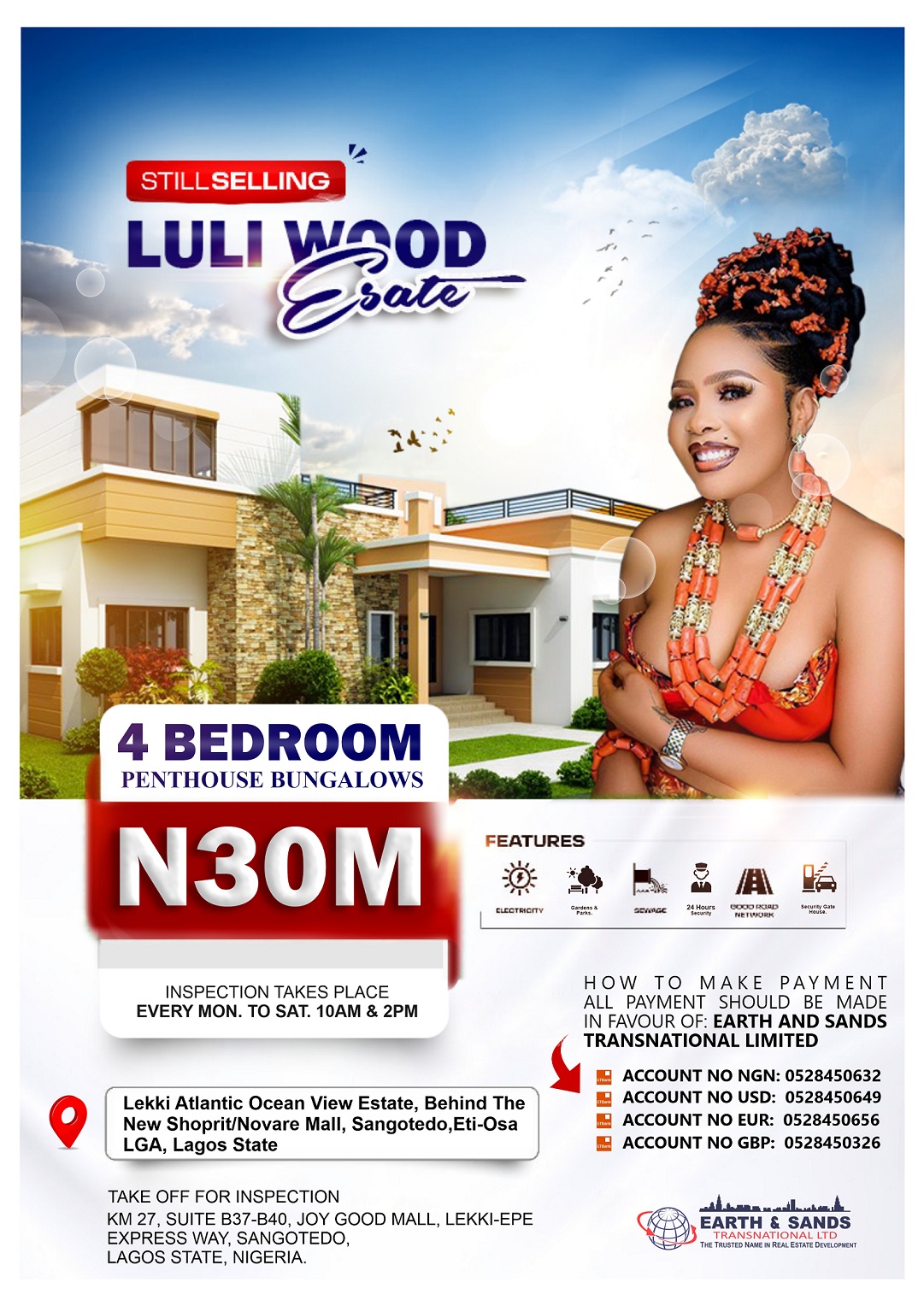 Own an outstanding home perched delicately at the edge of a serene waterfront, Overlooking one of the world's greatest wonders.
Experience luxurious stunning ocean view estate homes like never before. Giving you that cutting-edge luxury to a new frontier.
This Oceanview masterpiece is a combination of an Unbeatable Grandeur, Fantastic Proximity, Alluring Ambience, Exceptional Topography and A Quality Investment Portfolio. A true description of Guaranteed QUALITY INVESTMENT SECURITY and peace of mind…
Yes, Real estate is everywhere.
Don't do the ordinary… Go extraordinary.
This estate is the perfect definition of luxury extraordinary.
Real Estate Bought From The Right Source Never Fails.
Don't just buy into any real estate but buy a home that defines who you are.
Buy a home that speaks volumes on the sands of time.
An investment with huge prospects of geometric ROI.
Luli Wood Estate is poised and guaranteed for both greater sale value, rental returns, and capital appreciation market value of over 300% return on investment in less than 12 months.
Strategically located in the very heart of the Lekki Atlantic Ocean view.
Inside Luli wood park estate. A serene and diplomatic area of Sangotedo, Lekki Beach View, Behind The New Shop-Rite, Sangotedo. Along The 8 Lanes Lekki Coastal Major ExpressWay, Eti-Osa L.G.A. Lagos State, Nigeria.
Cease your one-time opportunity to buy an audacious home today at no cost!
NEIGHBORHOOD:
– Eko-Akete City
– Shoprite (Novare Mall)
– Catholic Monastery, Sangotedo
– Atican Beach Resort
– Barracuda Beach Resort
– RedLine Beach Resort
– Abraham Adesanya (Ajah Bridge)
And directly on the Major Express Road Right Behind The Novare Mall, Shop Rite.
Why Invest in 4 Bedroom Penthouse Master Bungalow
– Located in close proximity to the new economic hub of the nation's Eti- Osa L.G.A. & Ibeju-Lekki L.G.A
– Unbeatable Proximity to Victoria Island, Ibeju Lekki and the Main Land
– The serenity, ambiance and audacious proximity is second to none
– 100% solid dry tableland
– Has 3 access routes
– Guaranteed Capital appreciation rate of over 300% annually.
– Available now at a price crash rate
– Delivery in 6 months- (Guaranteed)
Location: Lekki Atlantic Ocean View, Odunsanya-Mopo, Sangotedo, Eti-Osa LGA, Lagos State
Title: Government Approved Excision